Ex president of Nigeria Obasanjo call on peace meeting in Nigerian against next year.
He said if there is no peace in the country is not from God, it the will of Nigeria.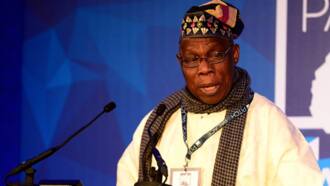 Nigeria Ex president call on meeting as 2019 is approaching for peace to reign in Nigeria and is working towards it to make sure Nigeria have standard living.
In a statement made by The former president, according to his special assistant (media), Kehinde Akinyemi, said national peace is very important in view of the growing insecurity in the country.
According to legit.com,
if peace eludes Nigeria, the people should be blamed and not God,
he said this while Speaking on Sunday, December 23, during the 2018 Christmas Carol and Service of Six Lessons organized by the Chapel of Christ the Glorious King (CCKG) situated inside the Olusegun Obasanjo Presidential Library (OOPL), Abeokuta.
"It will be a year of blessings for each one, and particularly for Nigeria.
When people come to me and say they are giving up on the country, I tell them no and that next year is a year of blessings for all.
"With right statements and right actions, people will be trooping back into the country.
We had it before; there is no reason not to have it again," Obasanjo added.
Also speaking, the Archbishop of Ogun Province, the African Church, Abeokuta Most Revd. S.O.B. Ojumu, urged Nigerians to embrace the spirit of peace during the festive period and as the general elections draw closer.